About Miss Lara and Hearth Home Hoodoo
I, along with two friends own and manage Black Cat Root Shack, an eCommerce and eBay Hoodoo Supply store featuring Lucky Mojo Products and our own goods. Hearth Home Hoodoo is my personal site, random blog and dump site for everything rootwork.
Update March 2011
Well looks like we are moving, my husband got a new job and its too far from where we are now. So the in-person shop will be closed for a while until I'm able to get it set back up again, but I will continue to be available for over the phone consultations and readings. The new number is 972-994-6644 and my rates remain the same.
For the next few months I will be reserving my work to divination (tarot card, runes, pendulum) and hoodoo consultations. I will not be doing any rootwork until we are settled and I have my altar spaces back up.
Hoodoo Update April '09
Well its been a seriously eventful couple of months. Black Cat Root Shack over on eBay is doing well. I have received some great feedback and ratings. I spoke with the people over at eBay the other day, and the lady said it was the best ratings she's ever seen. I guess shipping out quickly makes a real difference on eBay to customers. I have been working hard to attract local customers. An initial shout out has to go to cat yronwode over at Lucky Mojo for sending me some great conjure clients. Thank you Cat! In addition I've advertised over on Craig's List for Hoodoo Services, and that has brought in some local rootwork customers. I've also launched my Hoodoo Dallas Drug Store site for those in the Dallas metroplex looking for Hoodoo Stores and Candle Shops. Amazingly not many apothecaries for root work are around. My home is still my shop, but its had an overhaul, allowing clients to come into a welcoming area that feels more like a consulting business then my overly dogged house. Can we say YAY to baby gates?
I'd like to take a final moment to thank Kelly, my apprentice, nanny, housekeeper and all around sanity check. If you've called the shop recently, that sweet young thing that answered the phone is Kelly, take a moment to say hello! She picking up the rootwork quickly, and considering I keep quizzing her randomly, she is really setting her mind to this. Feel free to quiz her when you call -- she really likes that! *grins*
Thank you everyone, don't forget to stop back and see what is coming next!
Hoodoo Update January '09

My store at eBay has become very successful and I have been honored to get many rootwork clients who have called me directly for work. I set vigil lights on my altar for money, love, road opening, success and court case work. I also make hand made mojo bags, spiritual baths, bottle spells, honey jars and hot foot jars. If you would like to talk to me about the work I can perform on your behalf, or if you are interested in a custom product, please call the Black Cat Root Shack shop at 972-994-6644 and ask for Lara.
Hoodoo Update October '08
We have made a lot of progress on converting the Herb Magic and Lucky Mojo pages to using the online shopping cart. We still have many more pages to do over the next few months as the inventory is huge. Also, I have opened my eCommerce Store at www.blackcatrootshack.com and my blackcat-rootshack eBay store. I have also kept the www.blackcat-rootshack.com domain as a general informational site on the various products. It still needs a lot of work, but cat keeps me pretty busy, I'll get to it soon.
Hoodoo Update August '08
I am now a proud graduate of the Cat Yronwode Rootwork Course! I am also working with Miss Cat helping her with the website updates on the Lucky Mojo Catalog and Herb-Magic.com. I expect to be opening my ebay store in the next month or so, under the name Black Cat Root Shack selling Lucky Mojo products. The girls go back to school in a few weeks, and everything should begin hopping.
Hoodoo Update Jun '08:

There has been a lot going on lately. Most notably I have redone all my Altar spaces and taken on half a dozen new clients. I have also added a new member of the family, a Corgie puppy by the name of Mr. Wiggles. All the pictures of my altar spaces have been updated, except the one below, which I'm saving for prosperity. One never knows when one might need a little prosperity.
---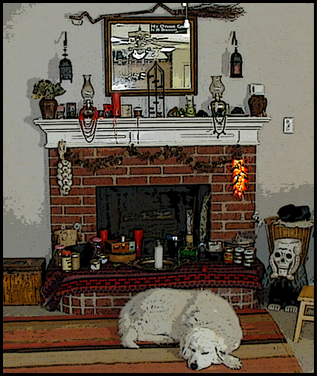 Hoodoo Introduction:
Greetings, I am Lara Rivera, a student root worker. I am not currently open for business as a professional Hoodoo Practitioner, however I am offering a number of limited services as part of my study. I am located in Sachse, Tx which is in Collin County, near Garland and Wylie and just outside of Dallas.
This picture was taken in front of my fire place in my living room and is the main altar where I do my love and money work. That is my dog Diva, she is a Great Pyrenees.
Many people have asked me when I began to study or practice magic/conjure and I tell them that is two different answers. When I was a young woman, about 19, something happened to me that scared me off the practicing of magic for the next 20 years. During that time however, my fascination with magic, folk lore and cultures of the Middle Ages grew dramatically. So, I say that I have been honestly studying various forms of magic, herbalism, folk lore and alternate religions for 20 years.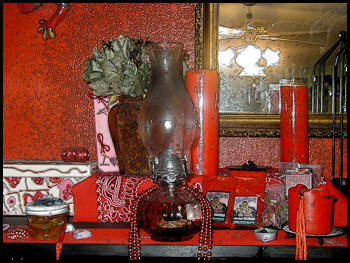 Yet it was not until I moved to Texas and discovered Hoodoo that my fascination turned into practice. On October 16th, 2006 I became student #896 of Catherine Yronwode the famed proprietor of Lucky Mojo. I have not yet completed her course and received my certification, but hope to do so in the next few months.
I will update this page with further information as my services or situation changes. For now, if you stumbled upon my site accidentally, please send me an email to say hello! I will be setting up a newsletter and guestbook very soon.
Regards,
Lara Rivera
Updated: 4/20/08
I Do Not Judge! Work Performed for any
Race, Creed, Color or Personal, Political,
Religious or Sexual Preference or Affiliation.
Looking For?